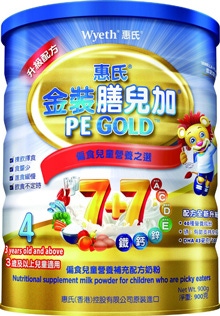 WYETH® PE GOLD™ Stage 4
Suitable for children from 3 years old and above
Origin: Singapore
Contains 40 Nutrients including Vitamin A, C, D, E, Zinc, Calcium, Iron and DHA*
*DHA 43mg/100g
Exclusive breastfeeding is recommended during the first 6 months of life followed by the introduction of adequate nutritious complementary foods, along with sustained breastfeeding up to two years of age and beyond.
WYETH® PE GOLD™ is not a substitute for normal diet. For picky eating children, one should provide them with normal diet and continue to correct their picky eating behavior. For any questions, please consult your doctor or dietitian.
WYETH® PE GOLD™ Stage 4 are not breast milk substitutes.
As babies grow at different rates, seek advice with your health professionals on the appropriate time when your baby should start receiving this product.