WYETH® Maternal Supplements
MATERNA® 23 Vitamins & Minerals, MATERNA® Algae Oil DHA and MATERNA® Opti-Lac® Food Supplement for Lactating Women are a series of maternal supplement.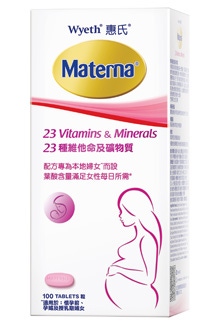 MATERNA® 23 Vitamins & Minerals
MATERNA® 23 Vitamins & Minerals is a nutritional supplement for preconception of pregnancy, pregnant and lactating women. It offers 23 kinds of vitamins and minerals with one tablet a day, which is more comprehensive than single vitamin/ mineral supplement for meeting women's nutritional needs. Its folic acid and iodine is important for baby's nervous system and brain development1,2. It contains calcium and vitamin D which help support bone health3, while the selenium contained helps to support immune function of mothers4.
National Centre on Birth Defects and Developmental Disabilities. Facts about folic acid. CS212882-A.
WHO. Vitamin and mineral requirements in human nutrition. 2004. Available at: http://whqlibdoc.who.int/publications/2004/9241546123.pdf.(Accessed on 24 October 2013.)
Department of Health, Hong Kong SAR. Eating well during pregnancy and breastfeeding. Available at: https://www.fhs.gov.hk/english/health_info/woman/20036.html. (Accessed on 15 July 2021.)
'Selenium.' Dietary Supplement Fact Sheet: — Health Professional Fact Sheet. N.p., n.d. Web. . Accessed on 12 Feb 2014.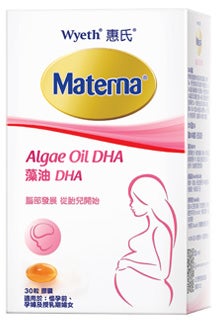 MATERNA® Algae Oil DHA
MATERNA® Algae Oil DHA is a nutritional supplement. With algae oil as its source of DHA, the product provides high purity of DHA as the algae does not pass through the food chain and the algae oil is manufactured in stringently-controlled environment. We choose ingredients strictly to ensure high quality and keep away from oceanic contamination. The product is manufactured in the USA. Algae oil DHA has obtained US FDA GRAS (Generally Recognized As Safe) status1, ensuring its safety and reliability. Furthermore, Algae Oil DHA exists as a natural triglyceride structure which has been shown to be bioavailable, thus can be easily utilized by human body. Given its plant-sourced ingredients, the product is suitable for vegetarians and it has no fishy taste.
Agency Response Letter GRAS Notice GRN No. 137 http://www.accessdata.fda.gov/scripts/fcn/fcnDetailNavigation.cfm?rpt=grasListing&id=137 (Accessed on 1 November, 2013)
*Bioavailability was defined as absorption and utilization of a nutrient.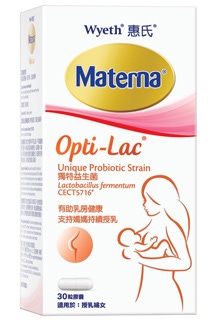 MATERNA® Opti-Lac® Food Supplement for Lactating Women
Please refer to Chinese version for more information.
IMPORTANT NOTICE: Breast-feeding. A well-balanced diet, both during pregnancy and after delivery, helps sustain an adequate supply of breastmilk. After delivery, breast-feeding provides the best nutrition and protection from illness for your baby. Exclusive breastfeeding is recommended during the first 6 months of life followed by the introduction of adequate nutritious complementary foods, along with sustained breastfeeding (or replacement feeding, when breastfeeding is not possible) for up to two years of age and beyond. For advice on breast-feeding, consult your doctor or other health professionals.
Before using any supplement for pregnant and lactating women, please consult your healthcare professional on suitable nutritional supplements.